Destress • Sleep • Immunity
Regular price
Sale price
$45.00 USD
Unit price
per
Sale
Sold out
Details
Your daily destress gummy. Give your body the rest and calm it deserves.
Reishi helps lower your body's cortisol levels (which cause stress) allowing you to experience an incredible sensation of calm and relaxation.
mixed berry flavor
| | | | |
| --- | --- | --- | --- |
| vegan | triple extracted | natural fruit Flavors | organic |
| gluten-free | fruiting body | soy-free | recyclable |
How to Use

Each bottle contains 60 gummies. 1 serving is 2 gummies.

Take 1-3 servings per day. Chew thoroughly.

Best results obtained with daily long-term use.

Take reishi to chill out and relax, or just before bed to get a naturally great night's rest.
Ingredients
View full details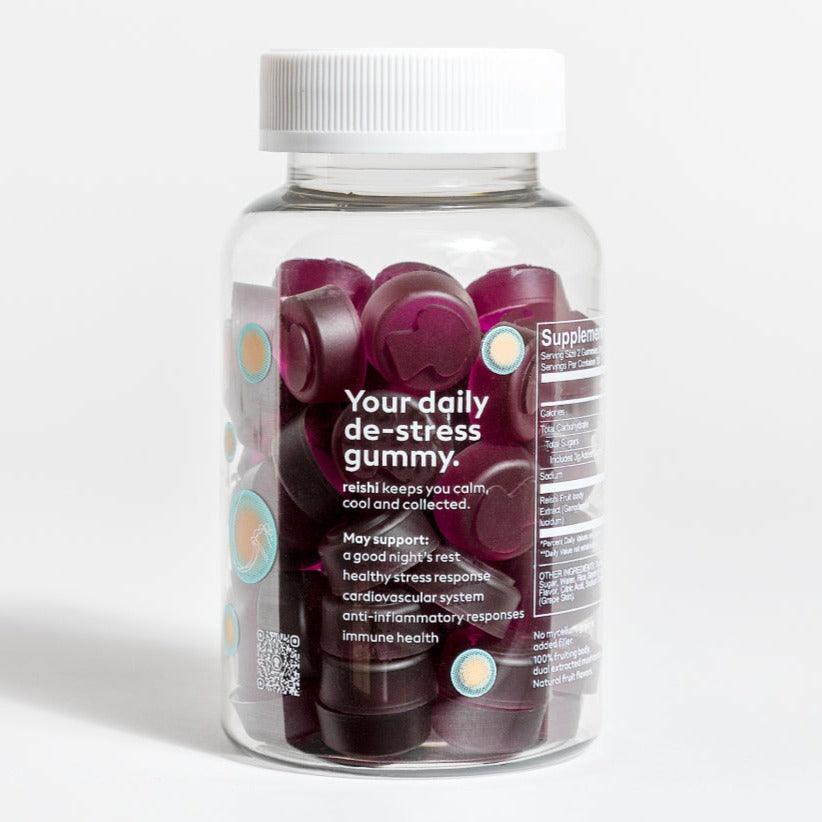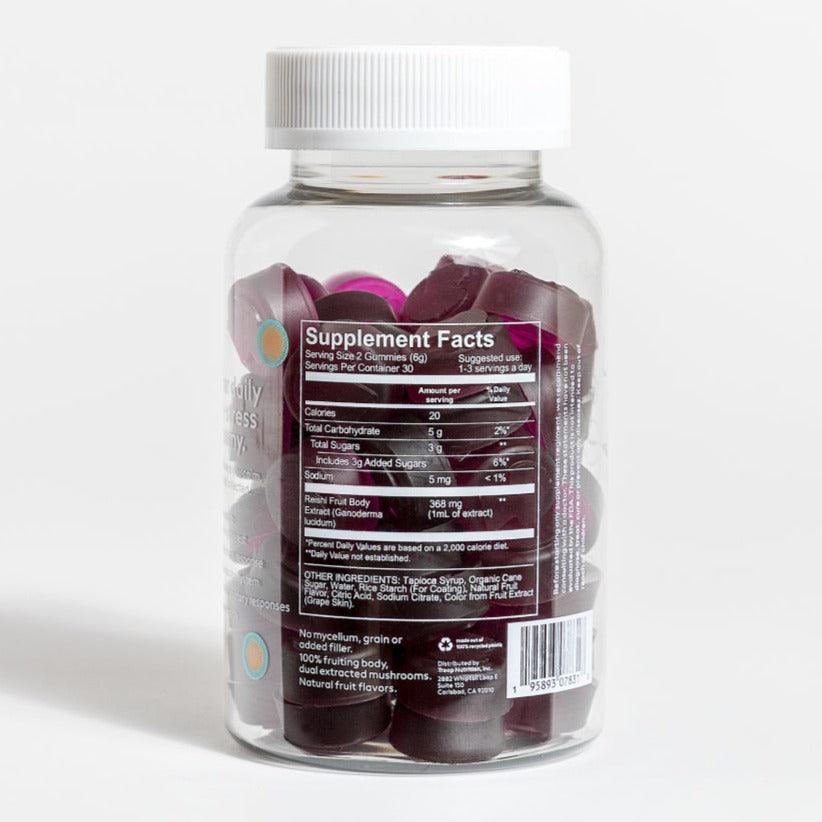 FEATURED IN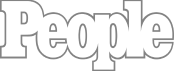 HOW IT WORKS
Used in medicine for thousands of years, Reishi also goes by the names of the "Queen of Mushrooms" and the "Elixir of Immortality." Its incredible immune boosting, antiviral and adaptogenic properties improve vitality and longevity. You go queen.
Reishi boosts the immune system and helps lower levels of cortisol, reducing stress and anxiety.

By reducing levels of stress and anxiety, reishi mushrooms provide a deep sense of calm, aiding in better quality sleep.

Reishi has a hard exterior making it impossible to eat directly. To get the full active reishi components we use our specialized triple extraction technique for maximum potency, and then put it in our delicious vegan gummies.
REISHI MUSHROOM
• A good night's rest
• A healthy stress response
• The cardiovascular system
• Antiviral and and anti-inflammatory responses
• Increased cognitive function
• The nervous system
• The immune system
• Protecting the body against viruses, bacteria, parasites
Learn more
what makes better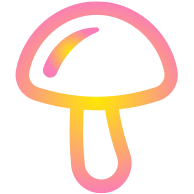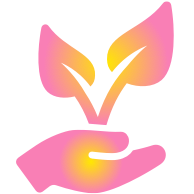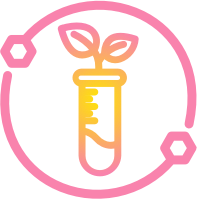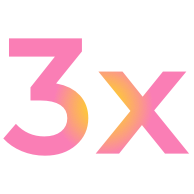 3000+ mg fresh mushrooms per serving.
Custom triple extraction allow minerals to be reintegrated, increasing density of active ingredients.
Single extraction, or no extraction.
100% fruiting body only. No mycelium grain or filler, ever.
Use mycelium grain mix. No transparency on how much grain is used, giving little nutritional value.
United States only. No mushrooms imported from China or elsewhere.
Mostly from China. Mushrooms from China are cheaper and have been found with heavy metals such as lead present.
Organic and sustainably cultivated on small craft farms. Wild-harvested when possible.
Grown inorganically in warehouse farms.
We believe in health without sacrifice. Troop gummies have everything you need and nothing you don't.
We use pectin from apples and citrus peels to make sure the product is fully vegan.

No corn-syrup or preservatives.

Troop never uses corn syrups or preservatives.

All natural flavors and colors

100% of our colors and flavors are made from fruits and vegetables.

100% Money Back Guarantee

Our gummies are fully covered by a 100% satisfaction money-back guarantee, so you can try them risk-free for 30 days and send back for a full refund if you aren't totally satisfied!
We spent months crafting a flavor profile to deliciously mask the taste of the mushrooms and make being healthy fun.
Troop is dedicated to it's original troop...earth! Together we can prioritize both people and planet.
Michael S

I am beyond excited to have found these gummies. I was honestly afraid of mushrooms for the longest time but I tried these gummies at a store and loved the taste so decided to give them a try. I am blown away. I've never fallen asleep so easily. I feel cozy and relaxed so take them 2 hours before bed and bam asleep. Please please please try these! go troop!

Natasha M

Wow these are so so good. I have slept better than I have in years and my anxiety is so much less now. I also haven't gotten sick once since I've started taking these, I can definitely feel my immune system is on overdrive. Love love love these!

Bijan S

Love the aesthetic of the bottle. I keep it by my bed as a decoration. The taste is amazing and I get so relaxed and chill when I take these at night. Really great product!

Kristin S

I struggled for so long with anxiety and tried everything (or so I thought). All the medicines that doctors offered ended up making me feel so bad and down and didn't last. Finding reishi mushrooms has been a life changer for me. And in a delicious gummy?! This product is a no-brainer. Highly recommend.


FAQ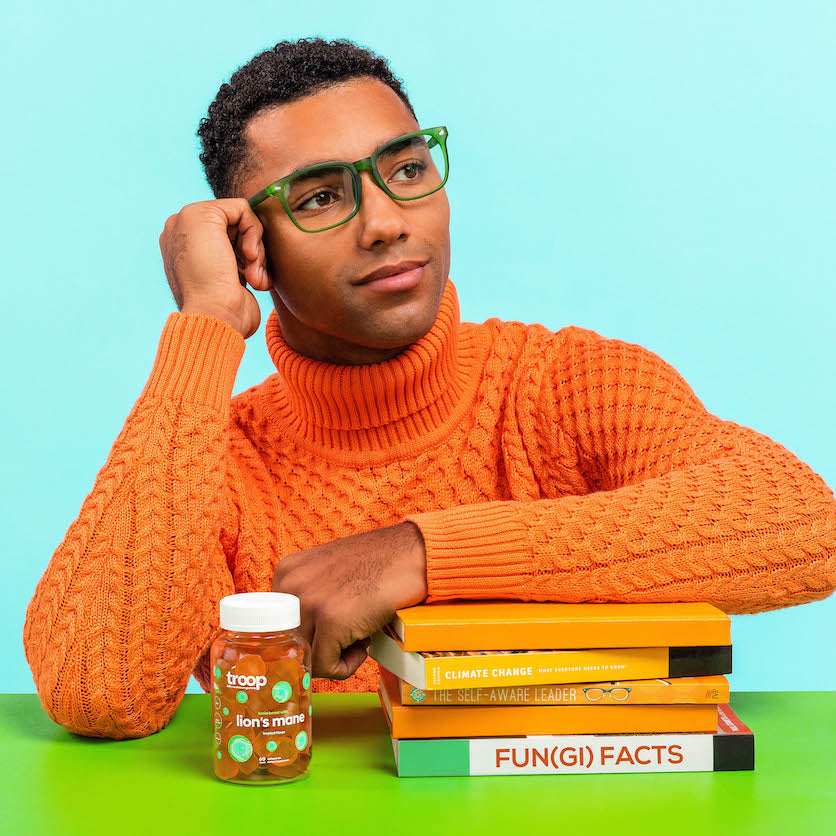 Wait… These are mushrooms… They aren't going to make me trip, right?

No way! These mushrooms do not contain psilocybin which is the compound that makes magic mushrooms trippy.  Our mushrooms are intended to be taken and enjoyed daily—morning, noon and night. 
What's your return policy?

While you can't return your product, we CAN return your money :) We have a 30-day money-back guarantee. Should you be dissatisfied with your purchase, please reach out to us so we can make things right. 
What's the serving size of mushrooms for your products?

We have over 3 grams (3,000 mg) of fresh mushrooms per serving size. Our mushroom extracts are extremely concentrated, so you're getting a potent amount.

We of course test all of our extractions to make sure that we're providing the best product possible to our troop. Our mushroom extractions come back with flying colors, having as much or more bio available compounds as what's on the market.